Dance & Community Building: Utopian Practice in the 21st Century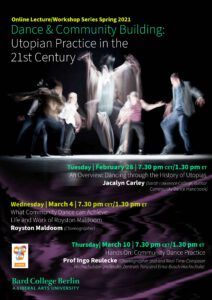 1. An Overview: Dancing through the History of Utopias
with Jacalyn Carley (Sarah Lawrence College; author, Community Dance Handbook, Henschel Verlag)
Tues, Feb 28, 2021     1:30 pm ET / 19:30 CET
Join Zoom Meeting. https://zoom.us/j/95798071399?pwd=RGwrTXRLZWNnNDMrWGVIMjJ6SDV6QT09
Meeting ID: 957 9807 1399
Passcode: 074344
2. What Community Dance can Achieve: Life and Work of Royston Maldoom
A  pioneer in the field, Royston's projects across the globe and his years as mentor have guided the field of Community Dance.
Weds, March 4, 2021      1:30 pm ET / 19:30 CET
Join Zoom Meeting     https://zoom.us/j/98298696066?pwd=OGtCS2RKYkdBSWprcGUxTHB3TVN5dz09
Meeting ID: 982 9869 6066
Passcode: 100823
3.  Hands On: Community Dance Practice
with Prof. Ingo Reulecke (Hochschul Zentrum für Tanz and Ernst-Busch-Hochschule)
From the perspective of someone working in the field, how do we reach the non-mover, and where are we going? Projects in Iran and experiences in a Berlin vocational school guide the discussion and practice.
Thurs, March 10, 2021    1:30 pm ET / 19:30 CET
Join Zoom Meeting  https://zoom.us/j/96413917575?pwd=M0lHYTF6L0M4eW4vYWFkbjZvVEs2UT09
Meeting ID: 964 1391 7575
Passcode: 259645