21.2.2018 um 20h30 Somatischen Akademie, Paul Linke Ufer 33, Kreuzberg
Häutungen der Zeit
mit Heike Kuhlmann & Ka Rustlers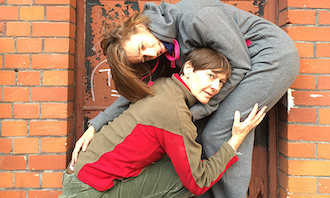 Since_somatics in creation
Die beiden Tänzerinnen finden die mythologische Metapher des sich Häutens, Wandelns, Ausdehnens und Verdichtens beim Verweben ihrer künstlerischen Forschung zur Embryologie mit ihrer persönlichen Verbindung und Geschichte mit Berlin.
Both dancers web their individual histories and connections with Berlin as part of their artistic research of embryological development and its mythological connotations. A metaphor for ceaseless change,  expansion and condensing.
SINCE_somatics in creation präsentiert zeitgenössische Performance-Künstler*innen, deren Arbeiten auf vielfältige Weise genährt und beeinflusst sind durch intensive Praxis und Auseinandersetzung mit somatischen Methoden.
SINCE 2018 wird kuratiert von Ingo Reulecke.
…
22.2.2018 20:00 Spektrum, Bürknerstraße 12 12047 Berlin
HOLGER – REULECKE – LUSSANA / PURGIS #422
Doors: 19:30
Start time: 20:00
Entrance: 6-10 € (up to your offer)
This is an evening dedicated to the meeting of experimental sound and dance, where both arts can express and fuse into each other.
The trio Holger Bey (electronics), Ingo Reulecke (dance, voice) and Marcello Lussana (live electronics) plays with the close connection between sound, music, movement, dance and voice. All three performers explore different ways and approaches ( or maybe variations and possibilities?) to establish a live contact.
PURGIS has been confounding audiences in Berlin since 2015. A culmination of extremes in terms of physical limitations, musical taste, volume and genre, Purgis delivers a brutal performance involving self-destructive dance interspersed with mathematical formulae, tweeked out movements and fragments of silent, distant sound worlds. Purgis delivers a hypnotic delirium of sound, movement and intention. Purgis is: Michiyasu Furutani, Adam Goodwin, Adrian David Krok.